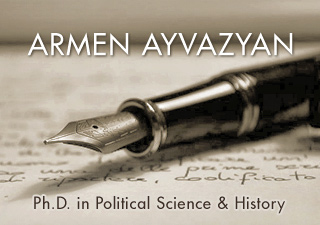 ACADEMIC FIELDS

- National Security of Armenia
- History of Armenia and Near East from the XVIIth to XXth centuries
- Military History of Armenia
- American Historiography on Armenia
- The Relations between Armenia and Armenian Diaspora
- Geopolitics and regional security issues of Transcaucasia (South Caucasus)


---

ARARAT CENTER FOR STRATEGIC RESEARCH

Please click on the logo to visit the website.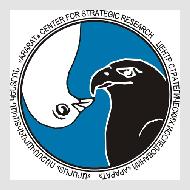 BOOKS
---


Armen Ayvazyan, Les Forces Militaires Arméniennes dans l՛Empire Byzantin : Luttes et alliances sous Justinien et Maurice. Traduction de l՛anglais par Pascal Bataillard. Avant-propos d՛Ilkka Syvanne (2013, in French)

Strategic Gaps in Armenian Political Consciousness or Axioms of the Geopolitical Existence of Armenia (in English, Armenian and Russian), Los Angeles: Ararat Foundation, 24 April 2006, 55 pp. The English version of this study was originally posted on Groong.com on December 16, 2005: http://groong.usc.edu/news/msg132245.html as well as published in The Armenian Reporter (USA) on January 28 & February 4, 2006 (Nos. 18 & 19) and Europe & Orient (Journal of the Institute Tchobanian, Paris), No. 2, (2006), pp. 87-92.
Read in Armenian and Russian.

Mother Tongue and The Origins of Nationalism: A Comparative Study of the Armenian and European Primary Sources (Yerevan, Matenadaran: "Artagers," 2001), 60 pp.
Read in Russian and full version in Armenian.

The Code of Honor of the Armenian Military, 4-5th centuries (Yerevan, Matenadaran: "Artagers," 2000), 48 pp.
Read full version in Armenian.

The Armenian Rebellion of the 1720s and the Threat of Genocidal Reprisal (Yerevan: Center for Policy Analysis, American University of Armenia, 1997). VI+87 pp., with a map and table.
PDF version


For books in Armenian and Russian please check the corresponding sections in this website.

For the full list of A. Ayvazyan's publications click here.